Weight Scaling a crf450 Shock Compression Shim Stack
The ReStackor-weight.xls spreadsheet has been specifically setup for weight scaling shim stacks. All you need to do is enter the stock shim stack, the stock spring rate and custom spring rate you want to use. Click the "Run" and "Weight" scale macro buttons and the spreadsheet will plot the stiffness of the target shim stack you need. From there all you need to do is tune the stack by adding or removing shims to match the target stack.
ReStackor spreadsheet for weight scaling a suspension setup
crf450 Shock Rebound Weight Scaling Example
The first step is to compute the stiffness of the stock shim stack. To do that you need the stock shim stack configuration and the geometry of the shock rebound valve port. For the example below the shock rebound stack is being weight scaled from the stock spring rate of 5.5 to a custom rate of 6.4 kg/mm.

'06 crf450 shock rebound valve port geometry from Valving Logic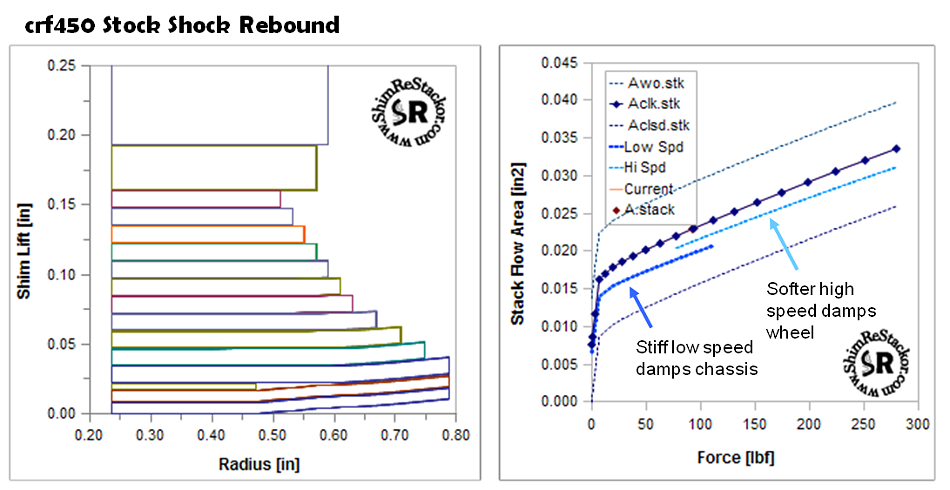 The ReStackor weight scaling spreadsheet shows you the shim stack stiffness needed to correct the stock damping rates for a spring rate change.
One thing that makes the art of suspension tuning difficult is the shock absorber is required to simultaneously accomplish two tasks. The shock has to be stiff enough to keep chassis from baby buggying and light enough to allow the wheel to instantaneously respond to bumps. Obviously, the shock can not be simultaneously soft and stiff so a compromise is needed. That compromise revolves around the idea of stiff low speed damping to control the chassis baby buggying and light high speed damping to allow rapid wheel motions. Optimum G has a whole series of technical articles discussing the engineering hand wringing that goes into the decision of where the shock absorber should transition from low to high speed damping.
For weight scaling a suspension that decision is much easier. The test rider team at the manufacture has already worked out the optimum split between low and high speed damping and the transition velocity that gives the best ride performance for the bike. All that needs to be done is scale the curve up or down to correct for the spring rate change while maintaining the same shape as the stock damping force curve.