High Speed Damping
Stiff mid-valve shim stacks can cause the rebound chamber to cavitate at high suspension velocities. When cavitation occurs damping rates in both the compression and rebound stroke are effected. ReStackor pro has the capability to evaluate cavitation limits, the suspension velocities where cavitation initiates and the damping forces produced when the suspension is driven beyond the cavitation limit.
Shock Bladders
Bladders pressurize the fluid reservoir of a shock and backpressure the fluid circuits to maintain pressures above cavitation limits. Low bladder pressures, stiff mid-valve stacks or soft base valve stacks can drive the shock absorber into cavitation (more) .
Increasing shock reservoir bladder pressure raises the cavitation limit to a higher suspension velocity.
ICS Piston
Pressures produced by an ICS system in the fluid reservoir of a shock are a function of the ICS spring stiffness and the suspension position. As the suspension is driven deeper into the stroke, fluid entering the ICS chamber compresses the piston spring and builds pressure in the fluid reservoir. Cavitation in an ICS system is a function of suspension position, velocity, ICS spring stiffness and the flow resistance of the base and mid-valve shim stack (more) .
Stiffer ICS springs extend cavitation limit to a higher suspension velocity.
Mid-Stroke Harshness
In a motorcycle fork it is desirable to have near zero spring force at the top of the stroke. This allows the suspension to float over small bumps when the bike is under hard acceleration or on a hill climb. To satisfy that criteria, ICS systems produce near zero pressurization of the fluid reservoir at full extension of the suspension. This results in a system that is easily cavitated at the top of the stroke and then recovers from cavitation as the ICS system builds pressure deeper in the stroke. Allowing the suspension to flip into and out of cavitation over the coarse of the stroke results in inconsistent damping and a number of suspension ills often summed up as mid-stroke harshness.
With stroke depth controlling ICS pressurization and suspension velocity controlling cavitation the tuning of an ICS system is not easy. Suppressing cavitation requires tuning the base valve stack stiffness, mid-valve stiffness, stack float, and ICS system to all simultaneously operate within the limits of cavitation. The physics based models of ReStackor give you the capability to parametrically test and understand the influence of each component in the system, identify the components that are controlling the suspension behavior and tune those components to control the system. Simultaneous control of these multiple parameters when trying to tune the system by the seat-of-the-pants is very difficult. ReStackor gives you the capability to understand the interaction of these multiple components and tune your suspension far beyond the limits previously possible (more) .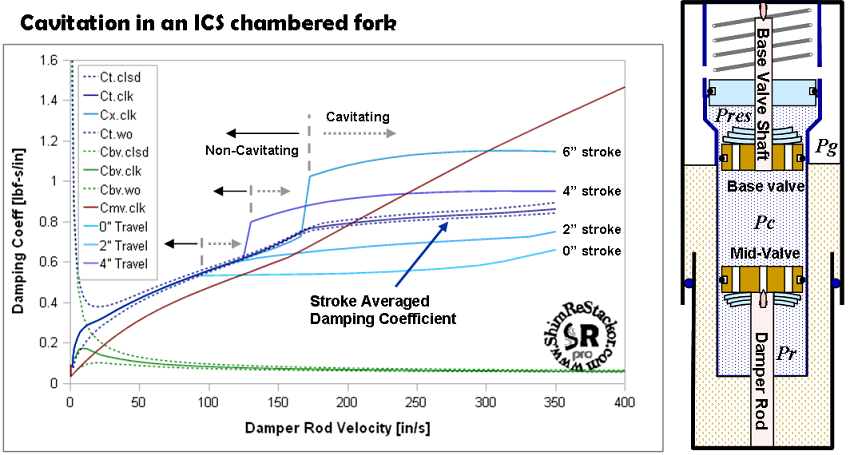 Cavitation limits in an ICS chambered fork are a function of suspension velocity and stroke depth.